WELCOME TO THE SKINNY
Your Insider Guide to All Things FAT
We are thrilled to welcome you to The FAT Paint Company. Whether you have just joined our tribe or have been a retailer since our humble beginnings, we at The FAT Paint Company are delighted you have become part of our family.
Our community has grown exponentially since FAT Paint's conception in 2012. We have expanded from Victoria Lambert's kitchen into a 5000-square foot production and retail space in beautiful New Westminster, British Columbia, with more than 130 retailers across Canada and the United States. More are coming aboard every month.
And, as the supplier of the boldest, most beautiful chalk-style paint on the market, we are dedicated to our retailers' success. After all, we wouldn't be where we are today without you. For us to thrive, you must thrive.
Hence, The Skinny.
As a FAT Paint retailer, The Skinny will be your best friend; a trustworthy and helpful guide to any and all things FAT. Here we will provide you with the tools of success: information about FAT Paint and other FAT products, tutorials on how to use them and resources for marketing and selling them in your shop or store.
The Skinny is a living document that will grow and evolve over time. We will continuously add and update content as our retailers' needs change and when questions arise. If you can't find the information you seek, don't be afraid to let us know. We'll make sure to provide answers through this site, as we're sure others will have the same questions.
We encourage you to stay up-to-date with all things FAT. One of the best ways to do so is to regularly check out our blog on this site: Chew the FAT. That's where we will post helpful articles, bulletins and news you can use.
Building on the momentum of the past five years requires loyalty, trust and commitment. We are committed to helping you be the best FAT Paint retailer you can be. We expect the same commitment in return. In short—help us help you.
A super helpful resource for you to glean information and inspiration from is the Retailers' FAT Lounge on Facebook. If you're not already a member, sign up today! It's a great place to see what other retailers are up to and engage with in real time, especially if you have a question or concern about a project you're working on. Our community is so welcoming and helpful; many retailers are all too happy to share their experiences and knowledge with others.
OUR BIG FAT TRIBE
We at The FAT Paint Company believe in the notion of community—one that fosters creativity, respect and collaboration. We are deeply connected with our neighbours here in New West and are extremely appreciative of the love and support we have received since we first opened our shop doors.
Our community, however, isn't defined by physical borders; it's connected through shared values, resourcefulness and ingenuity. We also believe wholeheartedly in the DIY movement and spirit of giving. Whether it's sharing tips, tricks and techniques or providing marketing and retail support, our goal is to create a cooperative bond with all of our retailers, artisans and DIY'ers where everyone's ideas are nurtured and supported.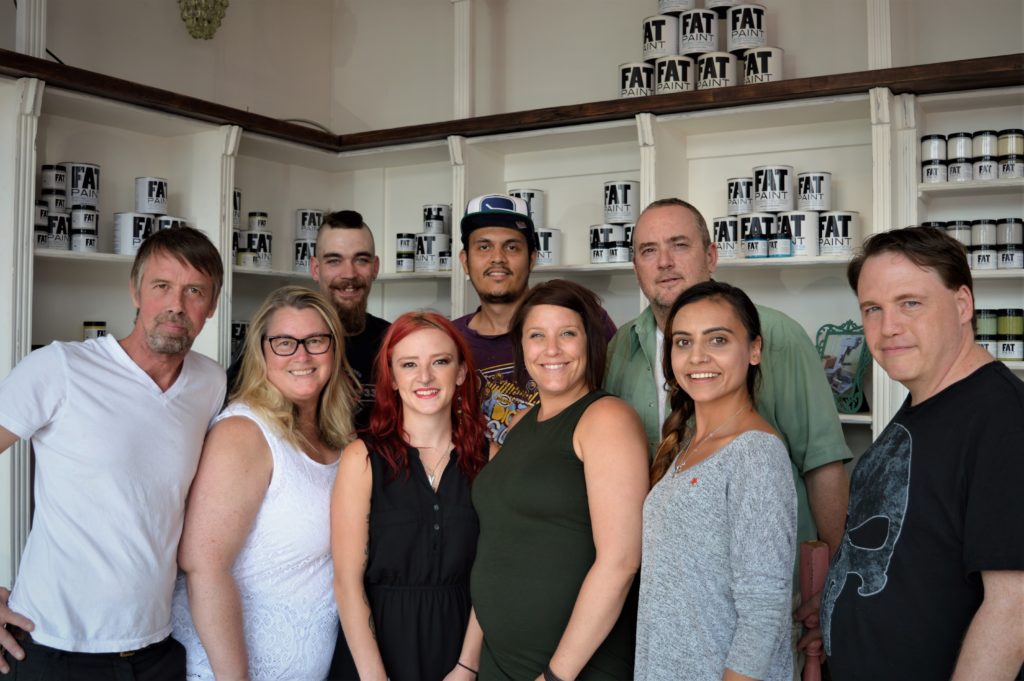 WHO IS A FAT PAINT RETAILER?
Just like everything else, we are pretty picky when it comes to our retailers. We believe our retailers should be creative, imaginative artisans—in one way or another—as well as be an advocate for the DIY movement. Whether your heart skips at the thought of revitalizing tired, dated furniture or crafting decorations and holiday ornaments, you ooze with excitement at the very thought of creating something new.
Our retailers should also be FAT Paint aficionados; people who have an intimate relationship with our chalk-style paint. You know how it covers, how it can be mixed or manipulated and have an encyclopedic knowledge of all the sanding, waxing and glazing techniques that go along with it. You pass on that wisdom to all members of your staff so everyone in your shop or store can confidently provide a positive experience to all your customers.
Now, if you don't have all the answers, don't worry. The Skinny is here to lend you a helping hand. Use the resources we have provided to be the best retailer you can be. The primary goal of every retailer is to create life-long FAT fans who love your business and will tell all their friends.
Be bold. Be beautiful. Stay FAT.