February 20, 2018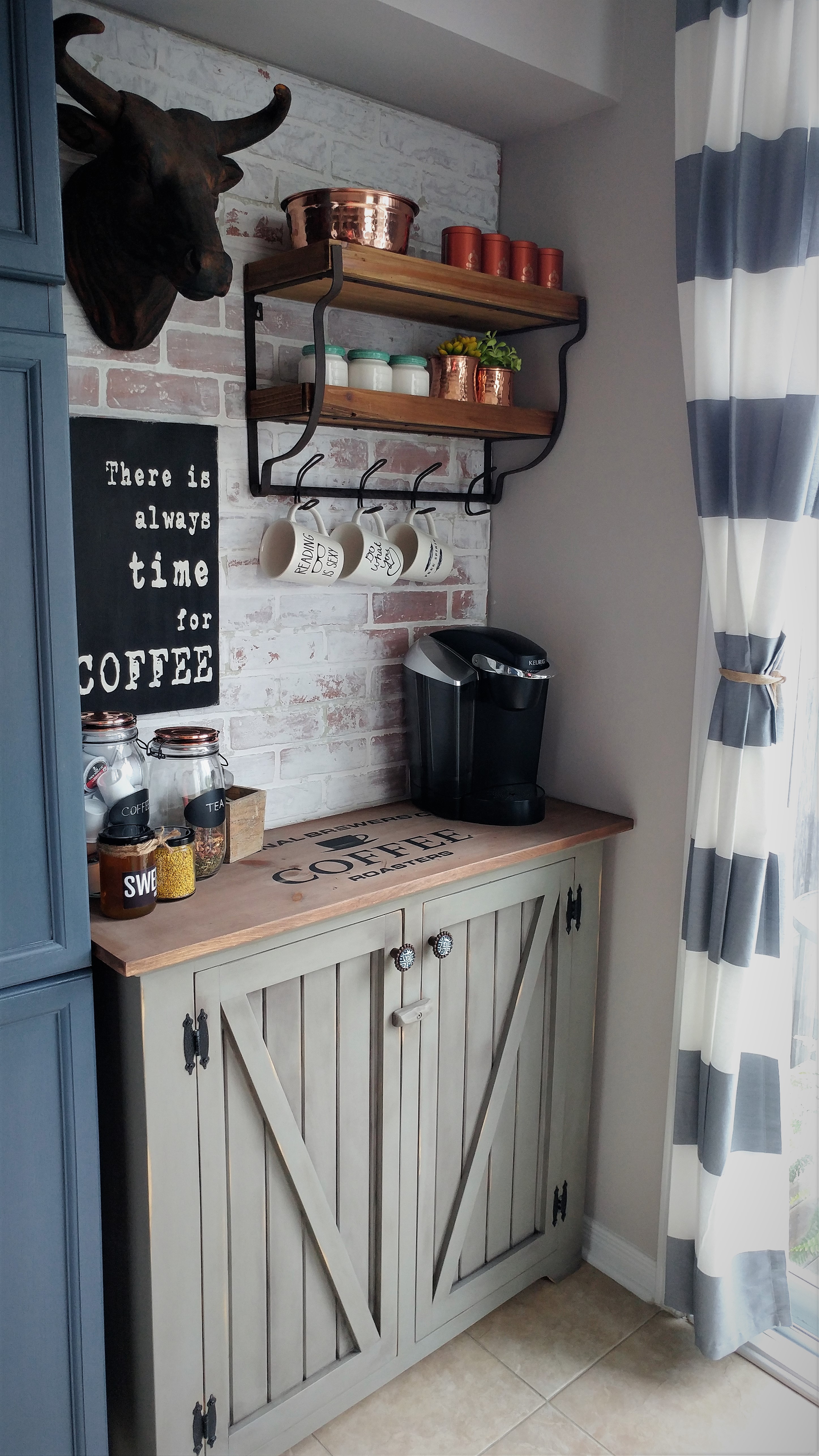 Every once in a while we ask FAT Paint artisans to FAT'n up our blog and social media feeds. After all, they're more colourful and crafty then we are 😉
Well today folks, you are in for a real treat! Amélie, who has been a FAT fan for years, recently created a "German Smear" Brick Wall to add some life to a bland corner of her kitchen.
The results? FAT-tastic!!
Wanna know how she did it? Keep reading to find out.
Amélie: FAT Paint Artisan & Interior Decorator
As soon as my partner and I saw the layout of the kitchen in our new townhouse we knew we had to get creative. After all, kitchens are the hub of the home but the layout certainly left something to be desired. Some spaces were under-utilized—namely the wall space and footprint in the adjacent breakfast nook. That area is pretty small. Very small, in fact. And a lack of counter space in the kitchen, which we desperately needed, forced us to roll up our sleeves and think outside of the box of what we could do to make the most out of that space.
Like many homeowners, we have several small appliances that take up premium counter space—the toaster and coffee maker, just to name a few. Those items are pretty much just used during breakfast hours, so why do they have to be on the counter all day? With that in mind, I decided a "breakfast/coffee bar" would be the perfect solution for that under-utilized corner of the kitchen. As a long time DIYer, artisan and FAT Paint aficionado, I instantly knew that the chalk-style paint would be my saviour.
I used FAT Paint to transform the builder's grade oak kitchen cabinets from drab to fab and was now looking for a little added farmhouse flare.
I designed a cabinet, which I commissioned a local carpenter to build for me, that would fit perfectly into the space. It needed a little personality: Greysful, from The FAT Paint Company's Amanda Forrest Collection, was the perfect hue for the job! I finished it off with a little Patina FAT Wax to create a bit of an antiquing, ageing effect, then added some vintage-inspired knobs to complete the look. With a little paint and a lot of imagination, I transformed that cabinet into a beautiful, rustic storage piece for the kitchen—if I do say so myself!
The nook housed all of our breakfast pantry items—toaster, mugs, coffee and tea provisions—but something was still missing. The area felt flat; it needed a bit of texture. I've always been a fan of brick walls in kitchens; exposed brick just adds warmth and character to a space.
After seeing these inspirational photos online, I knew I wanted to create my own "German Smear" brick wall. It's a lot easier than it looks, truthfully. I created the look by using some re-purposed brick wall panels I had left over from a previous project (you can purchase these at your local home renovation store).
I loved the look but the dark red brick was too overpowering for that small of a space. To resolve that, I cut the panel to size, mounted it on the drywall, then muted the colour and created an aged effect with a combination of Chalk White FAT Paint and some Extra FAT Embossing Texture Powder. It was very easy to apply: I smeared the brick panel with the mixture using a wallpaper trowel (and my fingers to get into the grooves), using a damp rag to remove the excess in certain areas.
The results – as they like to say at The FAT Paint Company – are FAT-tastic!
The project was super easy to do. It didn't cost much and took only a half day to complete. Now the coffee/breakfast bar looks like it was meant for that empty corner. Everyone who has visited our home comments on how lovely and warm the kitchen now feels.
As an avid artisan, I particularly enjoy changing up my home decor with the seasons. FAT Paint allows me to do that as often as I wish, while staying on budget. It is such an easy medium to work with—perfect for upcycling furniture, small decor items and creating cute little signs, like the one below in Raven and Chalk White, which was made by my friend Carol.
Thanks for reading my post!
If you are in the Ottawa area and would like more information about home decorating, staging, organizing or how to create your own "German Smear" Coffee Bar, don't hesitate to contact me at Details Home Apparel or via email: amelie@dha-inc.ca. Also, check out my Instagram feel for my final kitchen reveal: @amelie_interiors_and_decor
All the best,
Amélie Chartrand